Signs of a Happy, Healthy Dog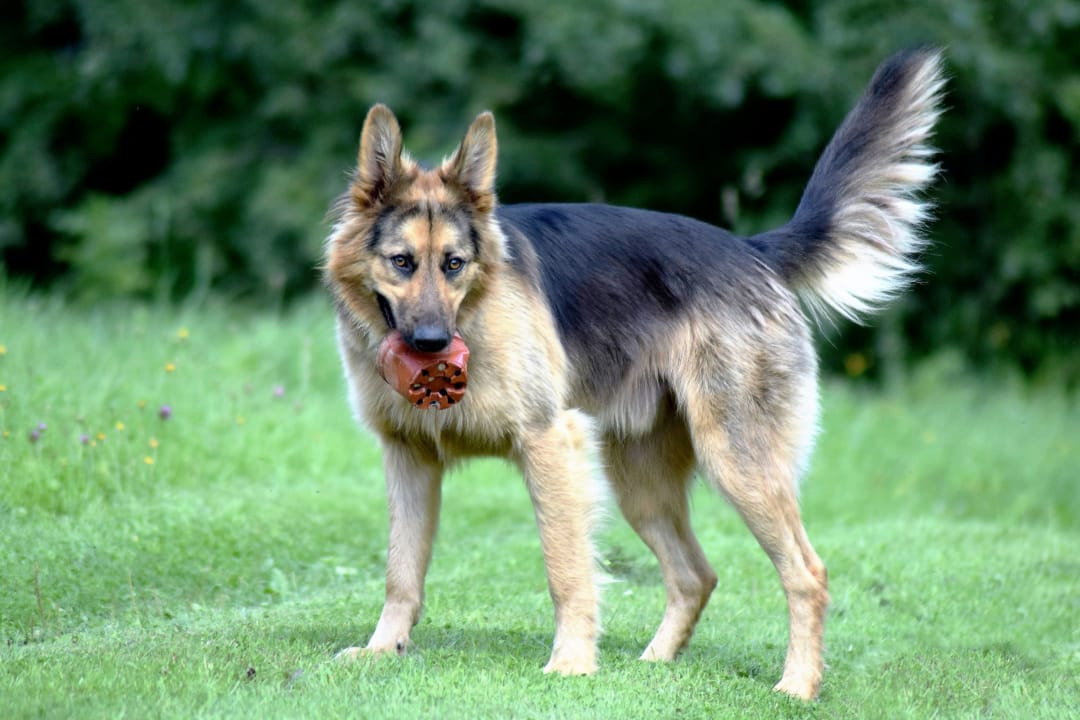 Your dog brings so much joy to your life. Dog parents also enjoy additional benefits like getting outside for exercise every day, enjoying companionship, and feeling less isolated and lonely. With everything that your dog gives you, surely you want to return the favor.
Over time, you will probably be able to read most of your dog's emotions. But if you are a new pet parent, how can you truly tell if your dog is enjoying the best life possible? Please read on for some of the signs of a happy, healthy dog.
Wagging Tail
Of course, everyone knows that dogs wag their tails to express happiness and excitement. But did you know that dogs also wag their tails when they're nervous or alert? If you're looking for signs of a happy, healthy dog, check your dog's back end. It should be relaxed and in its natural position with broad tail wags. This means your dog is happy and excited to see you.
Small, high-speed wags, on the other hand, can indicate anxiety, such as when your dog perceives a threat. You can read about some human signals that dogs don't like. That way you can be sure you're not causing the anxiety.
Soft smile and soft gaze
Over time, you'll come to recognize and love your dog's soft smile and gaze as a sign of happiness. A loving gaze means your dog trusts you and feels secure. Indeed, if your dog closes her eyes when you're stroking her, it means she trusts you completely. On the other hand, a hard gaze or aggressive smile that causes the lips to curl up can indicate nervousness.
Relaxed ears
In addition to your dog's tail, his ears are a good way to gauge his happiness quotient. Ears that are held in their natural position, accompanied by a wagging tail, are a sign that your pooch is relaxed and happy. In contrast, erect and alert ears, accompanied by other signs like licking the lips and tucking in the tail, can indicate anxiety or nervousness.
Relaxed mouth
A relaxed mouth with gentle panting is a sign of a happy, healthy dog. In comparison, a tightly closed mouth and hard panting can be indications of nervousness or aggression.
Good appetite
Eating all her food with enthusiasm is a good sign that your dog is happy and healthy. A lack of appetite or eating less than usual can indicate physical or mental health issues. Keep in mind that some dogs are picky eaters. If your dog is happy to eat her favorite foods but turns up her nose at foods she doesn't like, all is good in the dog hood.
Good behavior
Behavioral signs of a happy, healthy dog include excitement when you walk in through the door, tail wagging when you pick up the leash indicating it's walk time, eagerly waiting for food, and jumping for joy at the prospect of a car ride. On the other hand, destructive behaviors like chewing, digging, and excessive barking can indicate stress, separation anxiety, boredom, unexpended energy, or a mix of these problems.
Restful sleep
Poor sleep in your dog can be a sign of stress, anxiety, or discomfort. If your dog gets enough sleep every day and looks comfortable and content while asleep, this is a good sign that she's happy and healthy.
Keep in mind that your dog doesn't have to be happy all the time. Just like humans, dogs have moods. But if you notice these signs of a happy, healthy dog most of the time, you can be pretty sure your pooch is truly lucky to be your pet.
06 September, 2022