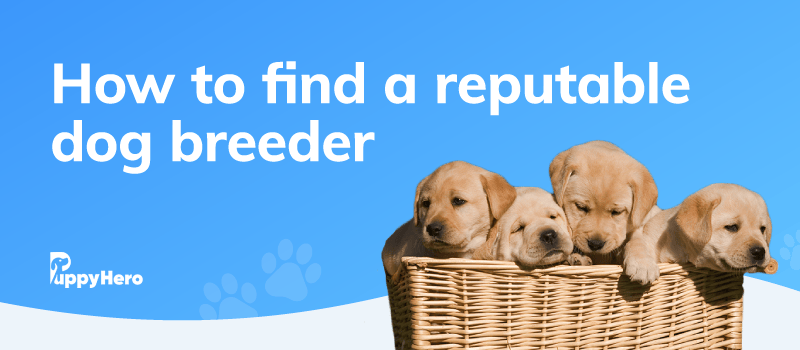 If you're embarking on the adventure of inviting a puppy to join your family, you've probably already done at least some of your homework. You've likely chosen the right breed, thought about names, and you might even have started stocking up on toys, bedding, and food. If this sounds like you—nice work! Unfortunately, though, you're not done quite yet—you still have to do your homework on how to pick a good dog breeder!
What can we say; anything worth doing is worth doing properly, and getting a dog is no exception.
One of the less exciting parts of the journey to buying a puppy involves thinking about what to look for in a dog breeder. Though it's not quite as fun as shopping for squeaky toys or coming up with a unique name, understanding the best way to find a puppy breeder will ensure your pup is as happy and healthy as possible, right from the get-go. It'll also mean you aren't giving money to bad breeders, which Puppy Hero dislikes even more than cleaning up dog poop.
Why People Choose to Buy From a Breeder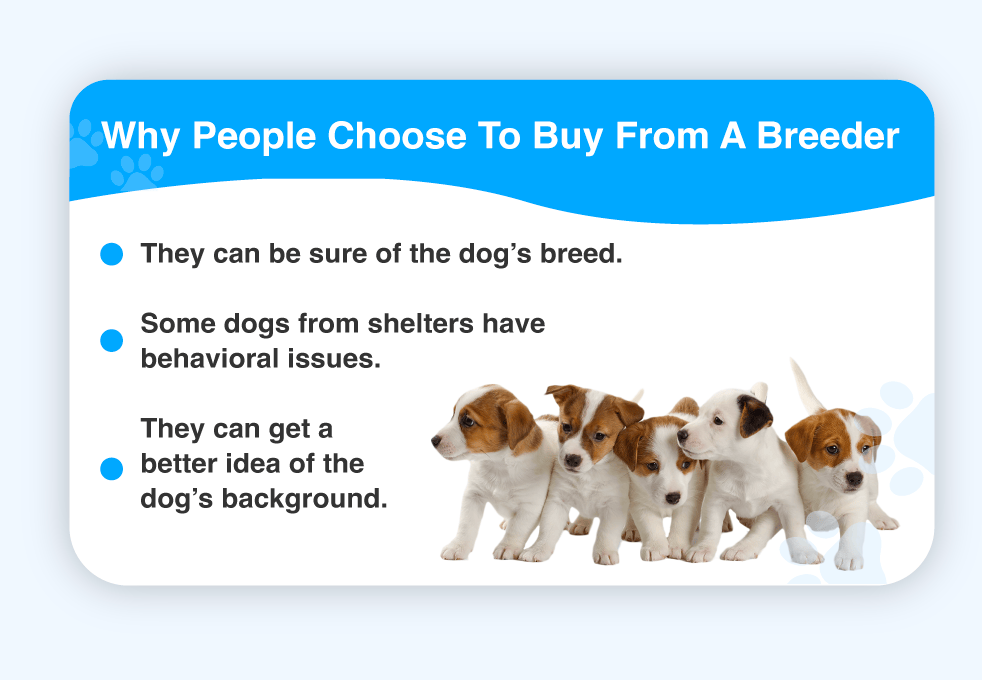 Pretty much everyone is familiar with the phrase "adopt, don't shop". While adoption can do wonders for a lonely dog who needs a home, adoption simply isn't feasible for everyone.
People may choose to buy from a breeder because:
They can be sure of the dog's breed.
Though specific breeds can be found in shelters, a breeder is the way to go if you want to be super sure of the legitimacy of your pup's breed.
Some dogs from shelters have behavioral issues.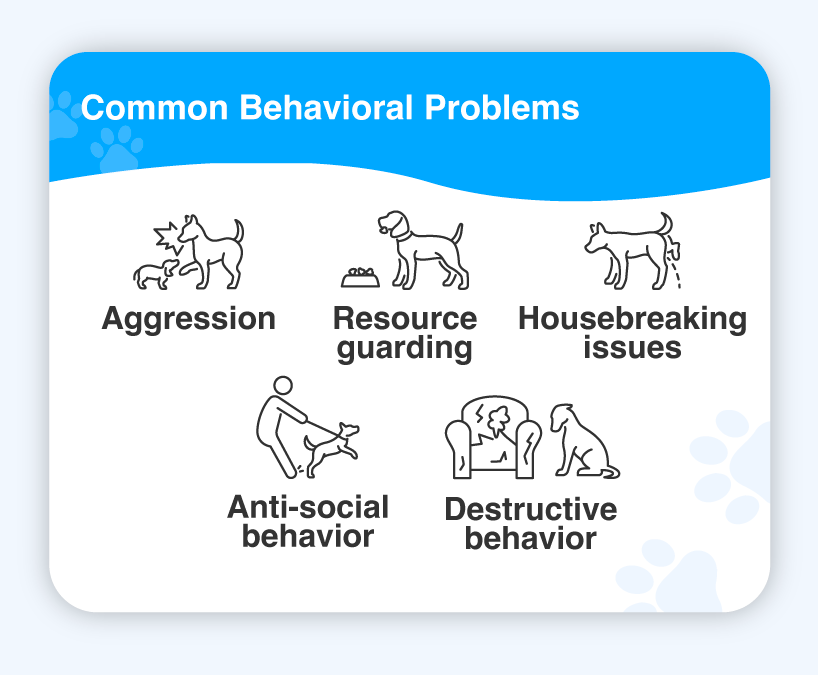 Unfortunately, some shelter dogs have had a pretty rough start in life. Resulting from mistreatment or neglect, it's hard to be certain that a shelter dog won't have additional needs or behavioral problems. While an experienced dog owner with no little ones at home might be super keen to take on the challenge of a shelter pup, this might not be the best option for first-time owners or those with young kids.
As well as being a better option for some families, you're also preventing re-traumatising a pooch who has to be returned for behaving badly!
They can get a better idea of the dog's background.
Visiting your new furry friend in the breeder's home is a great way to check on the background of your dog. As well as getting to see their surroundings and check up on the mom, your breeder should also give you information on your dog's family and genetics. This means you'll be aware of any nasty health problems that might crop up in the future, as well as getting a little peek into some doggy history!
The Best Way to Find a Puppy Breeder
If adopting isn't for you, using a trusted site such as Puppy Hero is a great way to find a reputable puppy breeder. Instead of trawling through social media, newspaper ads, or craigslist trying to suss out whether you're being scammed, or if that guy really does need your bank details to secure a deposit, Puppy Hero can do all the hard work for you.
All of our breeders are pre-screened and verified to ensure that they raise the pups in the best possible environment, and we have a zero-tolerance policy on working with puppy mills. We also exclusively work with breeders who offer a health guarantee and vet checks, so we've got your back when it comes to making sure you'll be returning home with a happy and healthy four-legged friend.
What to Look for in a Dog Breeder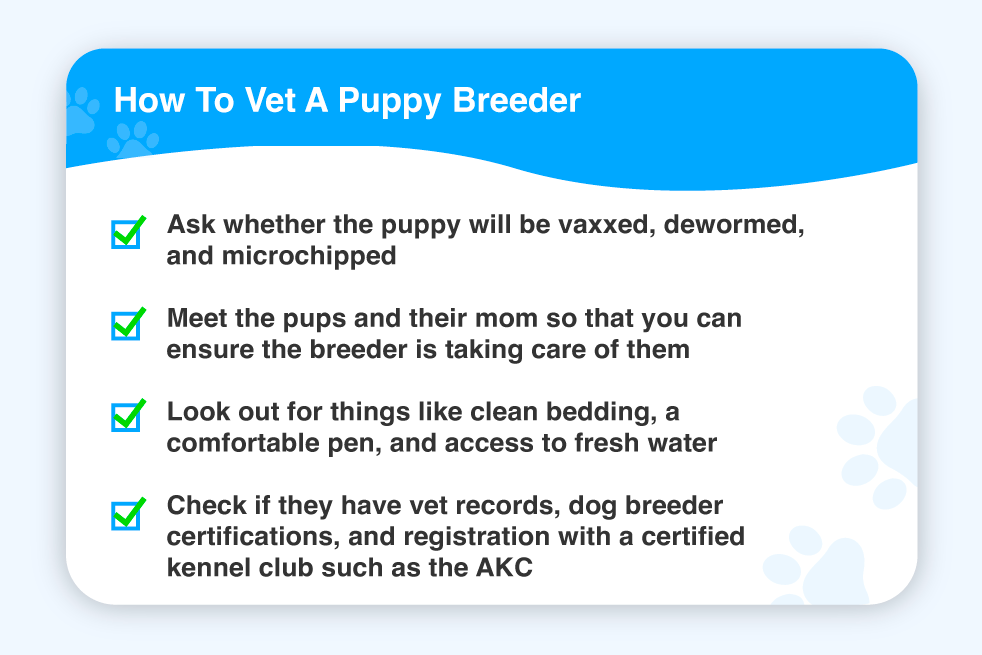 If you decide to go it alone and find a breeder elsewhere, there are some responsibilities you'll need to take on yourself to find a reputable puppy breeder. The best way to find a puppy breeder who you can be sure is taking proper care of their pooches is by doing a little detective work.
Arming yourself with a set of questions to ask the breeder is definitely advised. You'll want to ask about whether your new addition will be vaxxed, dewormed, and microchipped, as well as any other questions you might want answering about their general health.
You'll also want to meet the pups and their mom before committing to anything so that you can ensure the breeder is taking care of them properly. You'll be looking out for things like clean bedding, a comfortable pen, and access to fresh water. If a breeder makes excuses as to why you can't make a visit, this is a major red flag!
Last but not least, it's definitely worth checking that they have solid references, as well as vet records, dog breeder certifications, and registration with a certified kennel club such as the AKC. Being registered with a kennel club is a way by which a breeder can register their pups with an official organization that helps to ensure its members are carrying out ethical breeding.
Picking a Good Dog Breeder—Red Flags
Just as there are green flags that let you know you're picking a good dog breeder, the opposite is also true.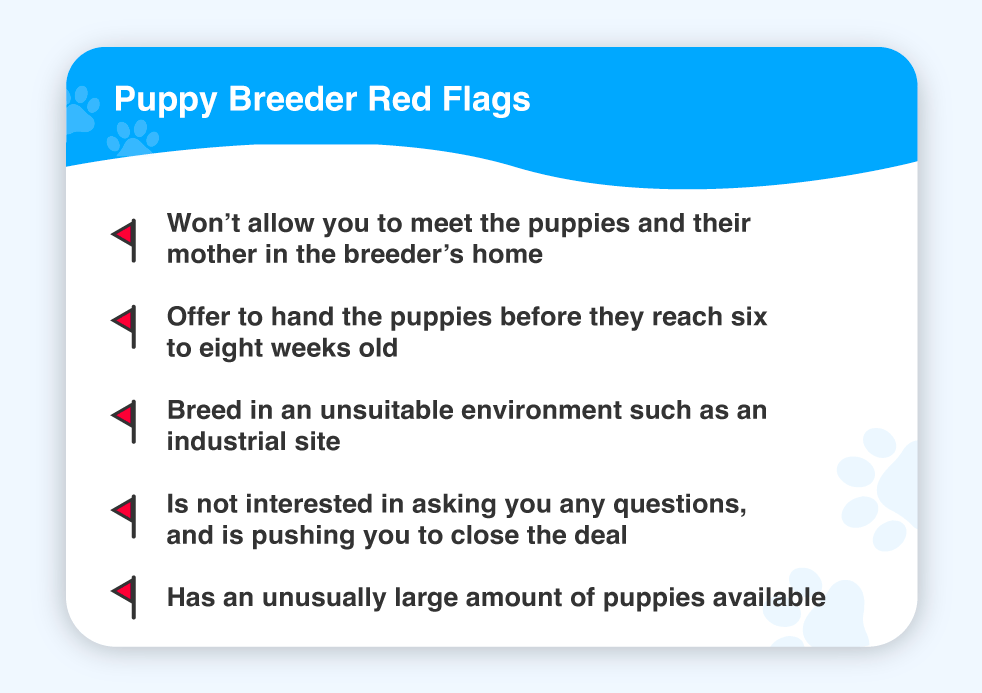 You should be wary of interacting with a breeder who:
Won't allow you to meet the puppies and their mother in the breeder's home. This likely indicates that they have something to hide!
Offer to hand the puppies before they reach six to eight weeks old. Puppies need to be fully weaned before leaving their mom. A breeder trying to send a dog home with you before it's reached six weeks shows that they're likely more interested in getting paid than making sure the puppies are safe and well.
Breed in an unsuitable environment such as an industrial site. Dogs should have a proper home in which to live and grow—right from day one! If they don't have this, you may be dealing with a puppy mill.
Is not interested in asking you any questions, and is pushing you to close the deal. A good dog breeder should be interested in asking you questions to work out whether you'd make a suitable match for their pups. If they aren't trying to get to know a little about your living situation, this means they probably don't care where their babies end up.
Has an unusually large amount of puppies available. With an average litter consisting of around five or six puppies, you may have found yourself speaking with a puppy mill owner if they have many more dogs available than this.
Finding a Reputable Puppy Breeder—What Can Go Wrong?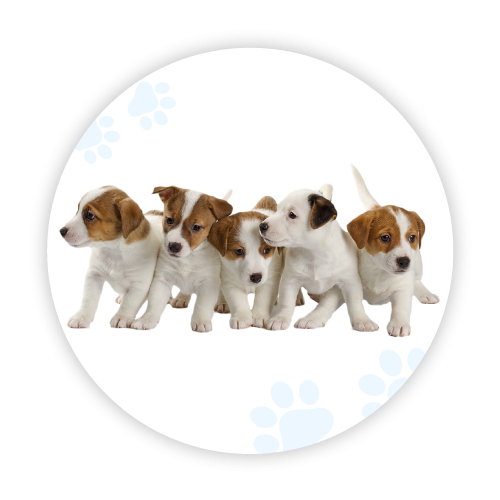 From getting scammed out of your hard-earned cash to giving money to a puppy mill operator, putting your faith in the wrong breeder can have some pretty nasty consequences.
Though you may be tempted to take a pup out of a puppy mill owner, or bad breeder's hands and give one of them a good home, in doing so, you're contributing to their continued ill-treatment of dogs—and no one wants to be a Cruella enabler.
If you're suspicious of a breeder, it's best to go with your gut and cease all contact. If you're particularly worried about the welfare of the dogs under their care, you can file a complaint with the kennel club associated with the breeder, get in touch with animal welfare charities such as the ASPCA, or even speak to your local law enforcement agency.